Get the guide that describes implementing interactive remediation of network traffic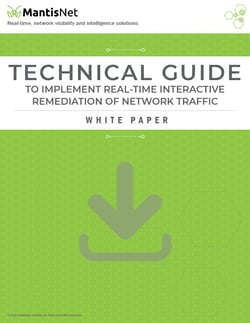 The size and speed at which data is being created and traverses' networks will only continue to increase. Without fundamentally changing how network data is inspected, analyzed and managed, the inevitable result will be that network data will overwhelm already overtaxed resources and analysts' time, resulting in unacceptably long decision timeframes and the inability to effectively remediate operational and security issues.
The benefits of utilizing real-time, continuous network intelligence and advanced decisioning that includes interactive remediation is compelling for any organization in any industry.
The technical guide will explain:
how seamlessly interactive remediation capabilities can be added to current network environments
the step-by-step process of how interactive remediation works
technical explanation on how interactive remediation works for sample use cases - account take over and real time DNS inspections