Instrument 5G networks for real-time network visibility
With the introduction of 5G connectivity comes unparalleled agility, scalability, and performance -
the ability to roll out new services combined with dramatically reduced latencies and increased bandwidth.
From the edge to the core - these networks must be instrumented to provide visibility and real-time intelligence and support the emerging protocols that are essential to 5G deployments- eCPRI, NGAP, PFCP, F1AP, XnAP - and in the core for the SBI with encrypted sessions/HTTP2.
See how the CVF works for 5G environments
Enabling the ability to filter, slice, identify and process both existing and new traffic types at all layers, as well as to continuously deliver telemetry in real-time will prepare network teams to be proactive to service and security assurance obstacles. A container-based, cloud-native approach such as MantisNet's Containerized Visibility FabricSM (CVF) enables network teams to push monitoring and analytics to the edge and maintain visibility across the explosion of access points and data that transits the user and control plane from the RAN to the core for 5G connectivity.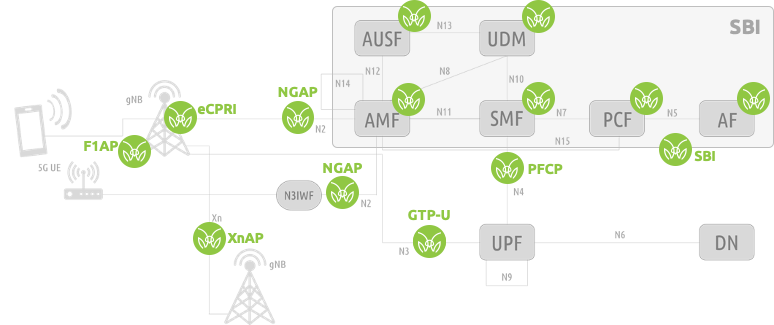 Gain real-time monitoring and remediation functions; optimization with legacy investments
MantisNet sensors and software technologies can add significant value in the deployment of next generation 5G networks by:
decoding eCPRI, XnAP, PFCP, F1AP, NGAP and other 5G protocols for real-time analysis of performance at the edge of the network
providing dynamic topology mapping of physical and virtual infrastructure as resources are dynamically deployed
providing visibility of SBI and non-SBI traffic including encrypted traffic session visibility
filtering and shaping traffic closer to the edge at the Remote Radio Head (RRH) for appropriate routing through the rest of the network
efficient support of the high-speed delivery and low-latency promise for customer applications by best identifying, filtering and managing network traffic at the edge and its interaction with the core network
improving the service lifecycle and lowering costs by optimizing traffic flows across new and legacy infrastructure
MantisNet container-based sensor technologies can be embedded anywhere in the network; at the core, mid-span at the edge, or embedded in virtual or physical infrastructure, to serve as the vital sensing component to "feed" continuous, real-time event stream processing and advanced analytics (machine learning and artificial intelligence) capabilities required to keep up with the demands of 5G and next generation networks.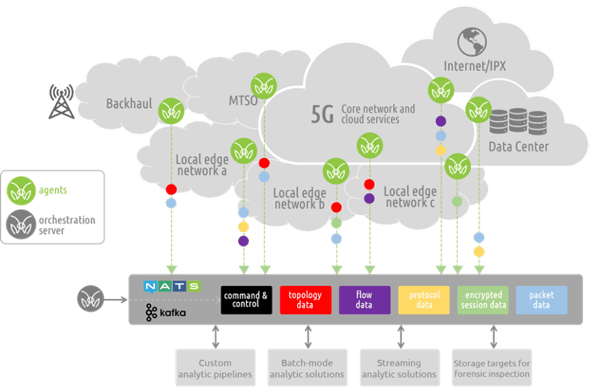 Want to learn more? Contact Us with any questions.