5G network architectures are redefining how resources are deployed, managed and utilized within a communications network. A fair blanket statement regarding these changes is that 5G is taking full advantage of cloud-native and virtualization technologies - even pushing them to the next level. These range from cutting edge, revolutionary 100% cloud native deployments from new entrants such as Rakuten, to the more measured non stand-alone (NSA) and hybrid architectures being deployed by the existing wireless service providers. One thing is clear- the days of capital-intensive dedicated physical infrastructure is meaning less and less as cloud-native technology is used to deploy dynamic, service-oriented, and highly scalable resources to deliver on the promises of 5G.
But, what does this mean for data visibility?
For starters, the very basic tenet of visibility - data access - has fundamentally changed.
Within virtualized, cloud-native environments: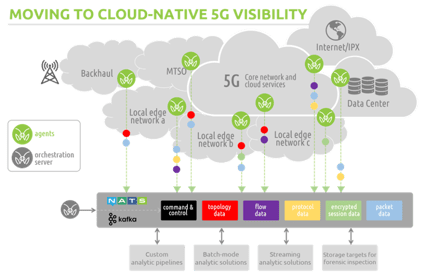 topology (physical and virtual) is hidden
interfaces (network namespaces) are hidden
flows (packets, octets, and protocols) are hidden.
This presents a whole new set of challenges in 5G network visibility that organizations are now required to observe not only inter-device traffic, but also intra-device traffic. Simply tapping network links may no longer be possible, nor will be getting access to specific traffic of interest- sure, you may still be able to see what is occurring between physical machines, but what about the virtual communications within? Specifically, container-to-container communication, pod-to-pod, pod-to-service, or external to service communications? What happens as resources are dynamically scaled up and down to meet customer demand? Will you be able to monitor and detect these changes immediately and gain insight into the recently spun up services?
Another major change in 5G networks (made possible through cloud-native, virtualized architectures) is that of network slicing to deliver specific SLAs tied to users, applications and services. In its most basic sense, network slicing allows service providers to focus on monetization of their network in a new way. No longer does their monetization come through delivering on promised transport capabilities (typically bandwidth) alone- now money is to be made by contractually promising bandwidth/performance via more complex SLAs in terms of bandwidth, latency, jitter… for specific applications and services. This is accomplished by virtually allocating network and application resources, from the RAN to the core, that are dedicated to servicing the application requirements and SLA.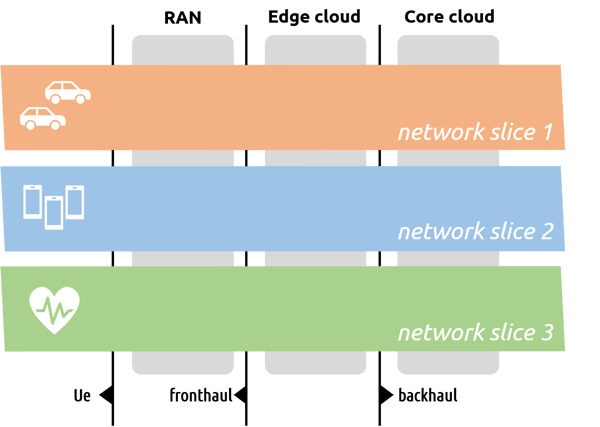 Network slicing is definitely a win-win situation at face value. As mentioned above, it creates new monetization opportunities for service providers, and more importantly, it provides a better user-experience. This is particularly important when considering some of the trends that have emerged in recent years- autonomous cars, VR/AR, streaming video on mobile, industrial IoT, and eHealth (to name a few). Network slicing also ensures that provider/customer agreements can leverage a more customizable service-oriented (and enforceable) contract structure moving forward. Suffice it to say, transparent visibility into network slices, resources and SLA metrics is going to be necessary for 5G and any cloud-native network deployments moving forward.
The Advantage of Cloud-native 5G Agents
The use of software agents may have had negative connotations in some circles, but the inherent capabilities of what an agent performs will shine for the real-time monitoring of 5G and cloud-native networks which we'll expand upon below.
So, what is to be the new normal for data visibility within 5G environments? Legacy approaches of tapping network connections and leveraging packet brokers and analytic tools will no longer work, especially since a critical element to 5G visibility and monitoring is to harness the traffic right from the Remote Radio Head (RRH) and to monitor and filter the critical protocols - eCPRI, XnAP, NGAP, PFCP - through the network. These approaches simply do not provide the necessary visibility into virtualized network resources and communications, nor can they keep track of dynamically changing/scaling network topologies, resource utilization or network slicing-related SLA metrics. The ability to access, capture, and continuously monitor data at any point across the virtualize cloud-native environment needs to be the primary focus, and legacy solutions fall short in this regard. New strategies for 5G data visibility need to be built on technologies that can address the unique challenges found within 5G and cloud-native environments.
At MantisNet, we believe that the answer to these data visibility challenges can be addressed by using new forms of composable, disaggregated container-based network agents. Dynamic and performant agents embedded in the containerized infrastructure perform inherent functions necessary for the processing of 5G traffic – protocol specific inspection, filtering, flow monitoring, packet injection, and capturing encryption telemetry - to enable real-time monitoring and visibility that works in conjunction with analytics and orchestration services that deliver unique levels of visibility to the inter- and intra-network communications.
Here is a quick breakdown on what we mean by "composable and disaggregated":
Composable: the agents need to be modular and have component functions that can be selected and assembled in various combinations to satisfy visibility needs across any 5G environment
Disaggregated: the agents need to be able to be dynamically deployed and managed anywhere across the environment, from the core to the edge, while still forming a wholistic picture of visibility and virtual resource utilization across the communications network
Having a "composable" agent design is a new cloud-native approach to data visibility, and one that should be embraced when considering 5G networks. Given the complex challenges of 5G technologies, the agents need to be dynamic and flexible- able to perform a multitude of functions/tasks (components) in order to provide continuous, real-time visibility directly to the various analytic workflows, management services and orchestration services. Being limited to singularly performing a function such as capturing packets, generating flow statistics, or network discovery won't be sufficient to fit the bill. These are standalone functions/tasks that need to be able to be seamlessly integrated as part of a wholistic, dynamic, cloud-native, network visibility strategy- not deployed as a random mix of disjointed legacy solutions. The speed, dynamic nature and scale of 5G networks requires this shift.
Cloud native 5G visibility enables real-time visibility, performance and security monitoring
Along with having a composable design, having agents that are deployed in containers (as opposed to stand-alone monitoring applications and physical hardware) is critical to a successful 5G data visibility strategy. First and foremost, this approach allows you to address the challenge of gaining continuous, real-time access to all communications in order to provide full visibility. Establishing visibility into the resources and virtual interfaces is necessary not only for keeping a pulse on network/application performance, network slicing resource utilization, and SLA delivery- it is also critical for security. When security threats are present in virtualized cloud-native environments, the distributed and dynamic nature of these environments makes anomalies and malicious traffic more difficult to detect and remediate. Cloud-native, container-based network agents take care of this issue, as they operate in the virtualized domain and can monitor all virtual traffic as it moves across containers, VMs, and physical interfaces.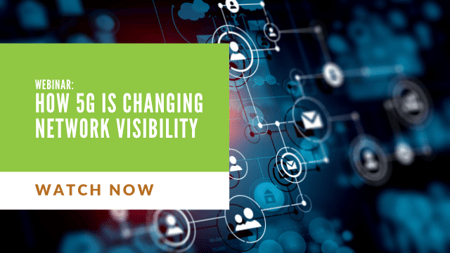 Furthermore, these agents can be dynamically managed and deployed anywhere throughout the environment- allowing for a wholistic, disaggregated solution to be leveraged. The ability to instrument the network at any given point will prove helpful to network teams as they work to manage and secure a continuously changing set of resources, while also being tasked with inspecting 100% of traffic (and to do so without impacting production systems). The agents also need to have composable functionality- where the essential underlying functions can be used individually or as a sequence of individual tasks, to meet dynamic visibility goals and requirements.
Below are a list of functions/tasks that a cloud-native monitoring solution needs to perform in order to successfully monitor a 5G environment. These are represented by illustrative color-coded tasks/directives in the image.
Functions/tasks needed for cloud-native 5G agent monitoring:
generate control plane and user plane event metadata
generate encrypted session metadata
provide network slicing resource utilization and SLA metrics
identify and map network topology - both physical and virtual resources
generate virtual and cloud native flow records and metadata
generate application and network performance metadata
continuously monitor Kubernetes CNI (Container Network Interface)

container-to-container
pod-to-pod
pod-to-service
external-to-service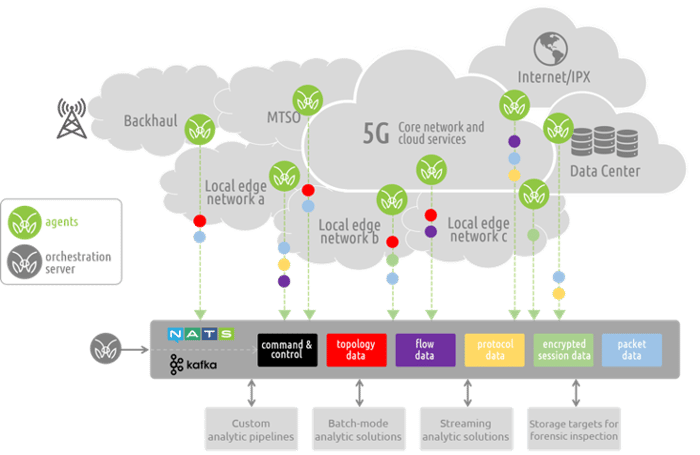 If you're interested in exploring how MantisNet 5G solutions can enhance your 5G cloud monitoring, contact us. Also, we will dive into the specifics of these functions in upcoming blogs, as well as discuss how these cloud-native 5G agents can be dynamically deployed, managed and controlled.