We had the pleasure of supporting the Software Engineering Institute at Carnegie Mellon University's conference, FloCon: Using Data to Defend. The presentations and discussions at the event provided validation that changes are coming to network and cyber security. More mathematical solutions are being developed to fuel machine learning and algorithms to combat malicious and other network traffic of interest. If you missed the event, an overview and video of our presentation is below.
MantisNet's VP of Engineering, Michael Reed, took the stage for his session titled Dynamically Repurposed and Programmable Network Monitoring: NetOps and SecOps in the Data Plane (video further down).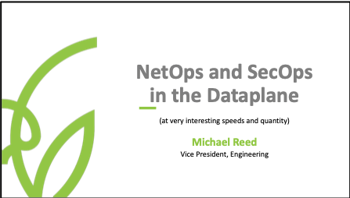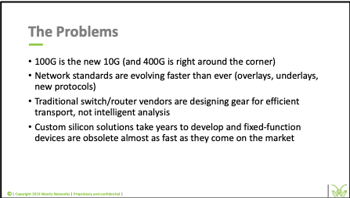 As data needed by operational and risk professionals for evaluation and decisioning, grows in size and speed, solutions to help monitor and manage that data, efficiently, at line rate is needed. 100G is the new 10G, with 400G around the corner, and network standards are evolving faster than ever (overlays, underlays, new protocols) with traditional switch/router vendors designing gear for efficient transport, not intelligent analysis. Additionally, custom silicon solutions have longer lead-time to complete and fixed-function devices become obsolete almost as fast as they come to market.
Our presentation highlighted our 100Gb network traffic experiences leveraging the Reconfigurable Frame Processor, Next Generation (RFP-NG) across a variety of use cases:
Http attacks
Intelligent patch panel/SDN
Load balancing on inner 5-tuples
MAC-in-MAC
Netflow
ONT/INT telemetry
This video of Michael Reed's presentation is of the Netflow use case at 100G (apologies for video quality, supporting slide is below):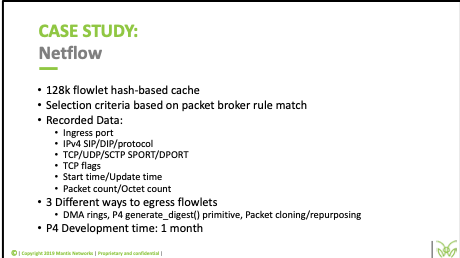 Additionally, we had the pleasure to present at the Demo/Poster session. Mike Fecher, Technical Evangelist, presented the capabilities of our Programmable Packet Engine (PPE) to use live DNS network traffic to support real-time network defense. You can view a demo of the live DNS traffic defense here.
Thanks to FloCon and the Software Engineering Institute for a great event. Our full presentation is found here along with the full speaker program and their available slides.
To hear about the other use cases presented at FloCon or discuss your unique network traffic analysis and intelligence needs, contact us.